Back to all articles
Who wants to mine rubies in Amsterdam? The EuRuKo 2012 Lunar Logic Expedition
It's very refreshing to get out of the office once in a while, unglue yourself from that monitor and get some fresh air. You can't code all the time, can you?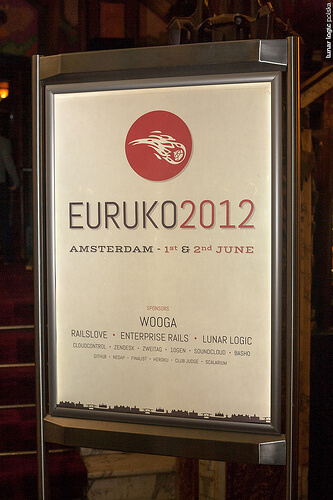 All of us in the company think alike and, as the EuRuKo 2012 was coming near, we had set our sights on that conference. We struggled and won the battle for the EuRuKo tickets, braced ourselves and set off for Amsterdam, the seat of the event.
Our trip went on smoothly, the biggest group travelled by plane, some people arrived by car and we nestled in the bustling centre of Holland's capital. We've managed to do lots of sightseeing before and after the conference and were very eager to attend it.
The conference Thursday started with Heroku's Hack Day on Rails, Rubinius and JRuby core during the morning and GitHub-sponsored splendid boat trip through the Amsterdam's canals just to warm up before the very conference. Friday and Saturday were full of talks and lasted until late afternoon.
Marek's thoughts
I have really mixed feelings about this year's Euruko conference. It was organized really well, the venue was just gorgeous; there was only one area that disappointed me – the talks.
And that's really unfortunate, because, well, the talks are the most important point of such an event, and after the conference' s first day I seriously considered trying another programming language – it was so uninteresting. The second day was a bit better, there were more technical presentations, but still I was expecting more of the event.
Adam's impressions
This year's Euruko was the biggest one I have attended to date (and perhaps the biggest Euruko yet). Like in Berlin the year before, the organizers chose a cinema for the venue, which is a great choice for a single track conference with over half a thousand attendees.
The number of attendees was high, but the conference didn't feel crowded. This is mostly thanks to how spacious Pathé Tuschinski, the cinema in which the event took place, is. It was also one of the very few Polish accents (the cinema was commissioned by a Polish immigrant in the 1920s). It's a shame that there weren't more of them, and especially that there were no speakers from Poland.
Meritorically, the conference did not live up to my expectations. The first day was filled with barely technical talks, and even ones that had nothing to do with Ruby at all. The second day was more interesting, with great talks by Konstantin Haase and Charles Nutter (although I think I heard most of the JRuby talk once or twice before). Traditionally, the lightning talks were usually more interesting than the regular presentations.
In my opinion, with Euruko growing more popular and larger every year, it would be good to reexamine its format. So far it has been a very "eyes-forward" conference, with almost no audience participation. I would love to see open spaces included in the schedule. I would also like the conference to have multiple tracks – even as many as four or five. I believe that the large number of attendees is a great feature of Euruko, but the single track format does not scale well to this conference size. I am looking forward to what Athens has in store for us next year.
Kuba's opinion
The talk I liked the most was Geoffrey Grosenbach's keynote on the second day about watching people code. He basically did a set of interviews with well known Rubyists and gathered a whole bunch of technical and more general tips about how to be a good programmer. Some were more obvious, some rather surprising (e.g. if your code is wrong, throw it away and start from scratch), but most were inspiring in some way.
There were a few other good talks, but they were usually the non-technical ones or those not related directly to Ruby – how to make a good library, how to follow the Unix philosophy and apply it in your projects, or how to write maintainable frontend code. What I missed was a few more good technical talks on a more advanced level, where people would share their experiences with various approaches to e.g. creating APIs, designing app's architecture or scaling apps – a few of those were on the list of proposals, but somehow they didn't make it to the final set.
Like the rest, I also had the feeling that the conference wasn't as good as it could have been. Everything was great in terms of organization – the WiFi worked well and the venue itself was amazing – but the choice of the talks could have been better. It was a great idea to use GitHub pull requests for talk proposals, but maybe a better tool to gather community's opinions and votes would have helped. Also, a lot of the talks seemed to have too little content for the assigned time – perhaps it would be better to timebox them to e.g. 25 minutes and have more talks this way? Judging by the lightning talks, a few of which were really good, it's easier to make the talk interesting if you have limited time and you have to pick only the best parts.
A word from Hania
This was my first RoR conference, so, after having heard positive impressions from my colleagues, I've had big expectations. Unfortunately, I could hardly find any concrete and technical presentations and those few having these qualities were so mumbled out that I wasn't able to follow them. I was anxious about the garbage collector presentation, yet it was very poor and I guess the majority of the audience was very disappointed. The second day turned out on much better, especially the Rubinius and JRuby presentations. However, generally speaking, the event confirmed my preconception that either someone is an attention seeker and does fancy presentations without much content, or somebody possesses huge knowledge, though unluckily lacks the skills needed to present it in an interesting way. That's a pity, because the event could be much more inspiring.
Marcin's view
Amazing city! Amazing venue! Really great time! When I think about this year's EuRuKo I have only good memories in my head.
Talks weren't that interesting, true. Why? Because information in today's world travels fast and we already could have been reading about many of things presented on EuRuKo on Twitter/Ruby Inside/etc…
Role of the IT conferences in recent years changed (or should change). I'm not expecting to learn new stuff on them anymore. I'm expecting great atmosphere and a lot of smart people to talk to. And I can say it was exactly like this.
To sum up: Good job Amsterdam!