Back to all articles
Why we needed a new blog?
Liftoff! We have a liftoff…
You can't even dream of travelling to distant galaxies when all you've got is an old space shuttle. That's why we've prepared the new Lunar Logic website. Our blog needed a serious overhaul, too.
It isn't just about the looks – we're going to mainly speak about technical stuff now, as well as get excited about the events we went to. Add some news and a bit of fun to top it off.
But there's another reason for getting the new image. Lunar crew has just strengthened in numbers.
Let's cut the chatter. Meet Rafael.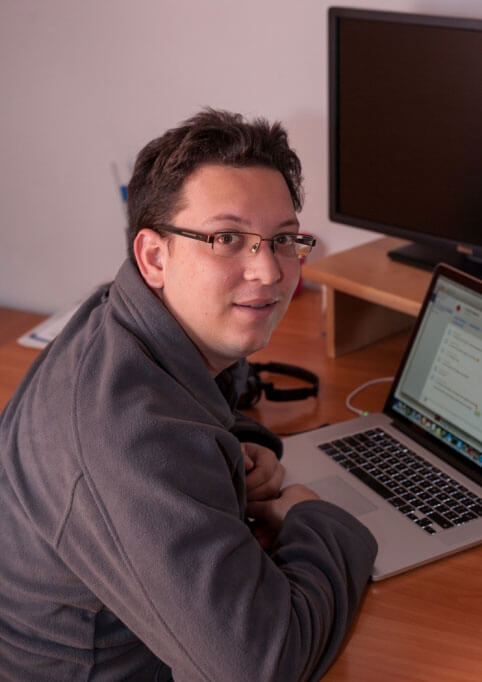 Rafael Caricio is our newest recruit. This open source enthusiast flew directly to our office from hot Brazil. He seems to have friends everywhere – we thought he would need some time to familiarise with the new environment, but he seems like a good Ruby gem – seamlessly joining with the existing structures here in Krakow.  Well, he was a bit confused about the snow, but he suited up quickly to meet the cold :)
Rafael is a busy man. Before coming to Lunar he started breeding tiny robots for GitHub Game Off 2012. As he put it:
Me and my co-workers  decided to create a project where people would be able to program and have fun seeing some animations. The idea came from Robocode (the original Java version), but we wanted to create it from the ground up. And we did. One of us took care of the engine and the rest of us for the website. We talked to a designer and she accepted the challenge of designing the game website. The coding itself took two weeks. We've been very surprised by the amount of attention it received, so we've decided to go ahead with the project and work on a completely new version trying to archive the feature requests from our players. The current, rewritten version of the game is more robust and has Python in the backend.
What is more? Rafael is an avid Python programmer and seems to be attracted by interesting events. DjangoDash? Node Knockout? Rails Rumble? You name it. He likes to work together with others and loves to share his knowledge. Have I told you that he's busy? He helped with open-source Thumbor (loved by Square or Le Figaro), Provy, a provisioning tool for Python, alternative to Puppet or PIP, Python package management tool. And it's just a beginning of the list of Rafael's deeds.
So, what's next? Mr. Caricio has just found himself a nice flat and is still amazed by the snow and freezing -1 degree Celsius. Luckily, our office is prepared for nature's onslaught – we've got hot tea and lemon.
Worry not, Rafael!