Back to all articles
Web Summit 2015 – Crowd, Talks & Toys
You might have already read the great review of Web Summit 2015 by Gosia (aka The Cheerful Designer) and be thinking about going next year? Well, maybe it is time to hear my (aka The Awkward Developer) opinion.
TL;DR Don't go.
I knew Web Summit with 42k (!) attendees, gazillion startups and bazillion things might not be the best place for introverts or socially awkward individuals like myself. And that the event is not meant for programmers, but rather marketing people, entreprenours and startupers. Yes, I don't even know how to spell "entrepreneurs", but still decided to go when my great friends from Amazemeet invited me to join them. It sounded like one-of-a-kind experience. Plus, I wanted to see the "Toys" on show at Machine Summit.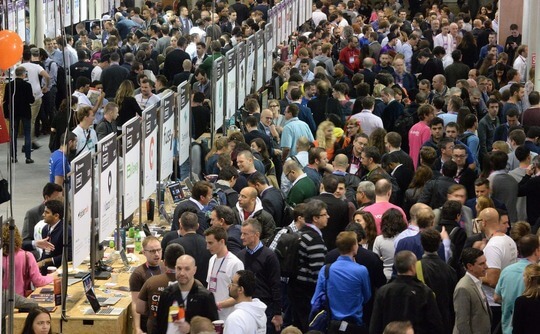 Well, it quickly turned out the Web Summit crowd wasn't only a problem for introverts. I'm sure 99.9% of attendees felt overwhelmed at some point (and the remaining 0.1% probably just skipped the event and went straight to the pubs). There were lots of helpful volunteers, team members and even law enforcement doing their absolute best to make the whole thing work as smoothly as possible. But with 9 main stages, 10 minutes walk between the 2 main buildings, 15 minutes walk to the Food Summit, no breaks between 15-20 minutes talks, queues and plenty of other attractions  – it was just not possible.
But I don't give up easily. I decided to come up with (survival) strategies to best spend my time and enjoy the experience as much as possible. Since there were 21 different "summits" happening during the whole 3-day event, there was a lot to choose from.
1. Out of my comfort zone: Fashion Summit
My first idea was to go and listen to something I have no clue about and fashion was an obvious choice for me. I was hoping to see other points of view and hear some new stories. But after waiting for 35 minutes (and hardly moving) in the best-dressed queue ever I decided to crawl back to my little world (Code Summit). Still, I'm planning to use this idea during my next conference. And maybe wear nicer shoes.