Back to all articles
Wroclove.rb 2016 – Inspiration in Silesia
Wroc_love.rb conference has, yet again, lived up to expectations. When I attended Wrocław's Ruby conference two years ago it was a real eye-opener for me. And one which shaped my personal development as a coder. This year, I wasn't expecting that much, but still went to the Silesian capital with a fair amount of excitement and high expectations.
The feels
Wroc_love.rb conferences are funny in a way. On one hand there's not much heat nor energy (the opposite to what I experienced on BaRuCo or Craft for instance). It seems slow-paced and sleepy. People are lazily flowing through the UW corridors, quietly chatting or typing something on their phones. No hassle, no noise, no craziness (it starts late at 11 AM). However, in some inexplicable way, this atmosphere is stimulating, inspiring and energizing as hell.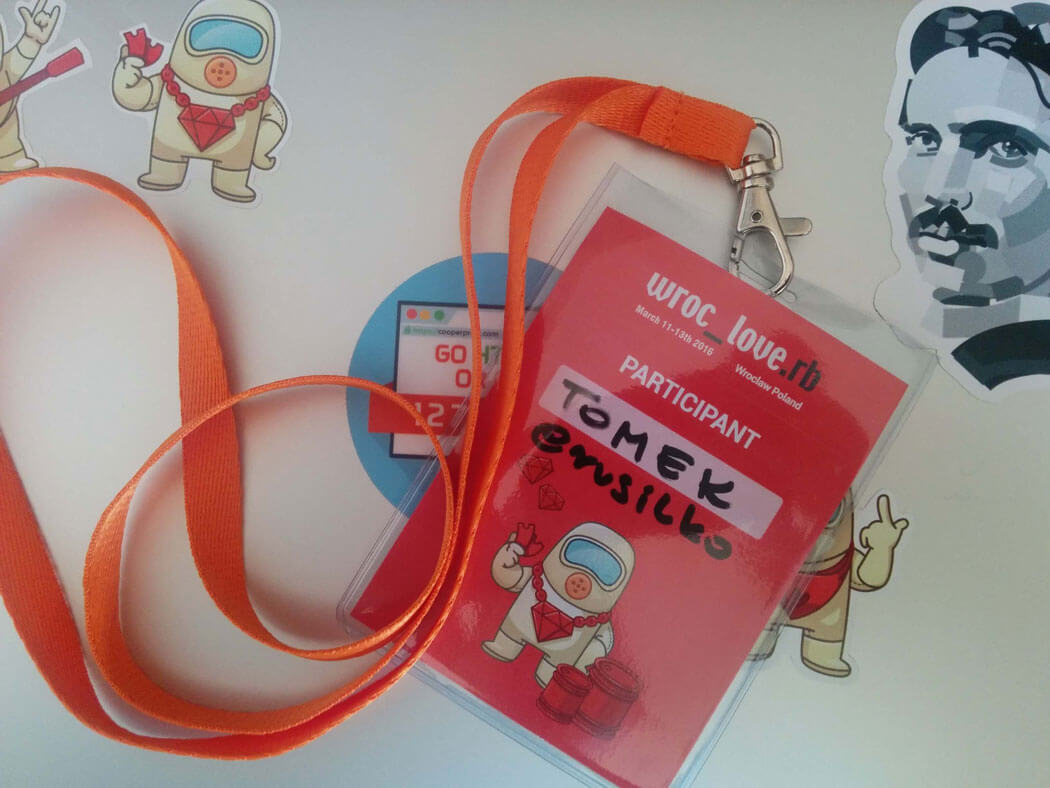 Maybe it's the careful choice of talks that are aimed to address a broad range of disciplines. Perhaps, it's the discussion panels with experienced programmers. Or it could be due to this insane idea of bringing concepts from other technologies to the Ruby world?
Whatever it is, it works. And surely, it's worth a trip to Wrocław.
The talks
Let me quickly recap few talks that stuck with me:
Basia Fusińska got us started with a well-prepared lecture about the R language. In an entertaining and engaging way, Basia walked the audience through crazy features and syntax quirks of a language created by statisticians. Although some of these quirks are utterly insane, it is always valuable to see something entirely different than Ruby. And since we are currently writing some R code in Lunar, it was good to learn few new tricks.
The first discussion panel was the classic "vim vs. emacs fight". Only taken to the whole new level, for everyone interested in how other devs set up their optimal workspace. We've covered Vim, Rubymine, Atom, Sublime Text, Spacemacs and even good old TextMate! Many pro-tips collected. For me – vim power user – the winner is surely the map-capslock-to-escape trick. Though I must admit that after seeing Tatiana Vasilyeva's Rubymine presentation, I am seriously considering switching to the JetBrains product. The only question is: does it have vim mode?
The second day brought us some more serious stuff. Deployment. It's not my thing really, so I was happy to hear how professionals are solving various day-to-day admin problems. From server configuration to deployment scenarios, to monitoring, to backup strategies, whatever question might have been troubling you, you had an expert answer on the spot.
The "Lessons of Liskov", with no doubt, was the best talk of the conference. In four acts, Peter Bhat Harkins:
– explained the difficulties you may have understanding the Liskov Substitution Principle;
– showed how to spot places in the code where there are "bugs waiting to be written";
– demonstrated how to avoid "oh what the hell now" situations, when you get an exception five steps from where the bug is.
As a conclusion, Peter proposed to extend the definition of LSP principle to general Substitutability Principle, which boils down to the idea of writing more substitutable modules.
The lecture was very well received: "Accurate level of balance between abstract concepts and practical tips – just as I like it" to quote one of conference attendees.
Also, Peter turned out to be one of the best speakers I've had a chance to watch on stage: fluent, prepared and passionate. If you have time to see only one talk from this conference – choose this one – it will be worth your time.
Personal agenda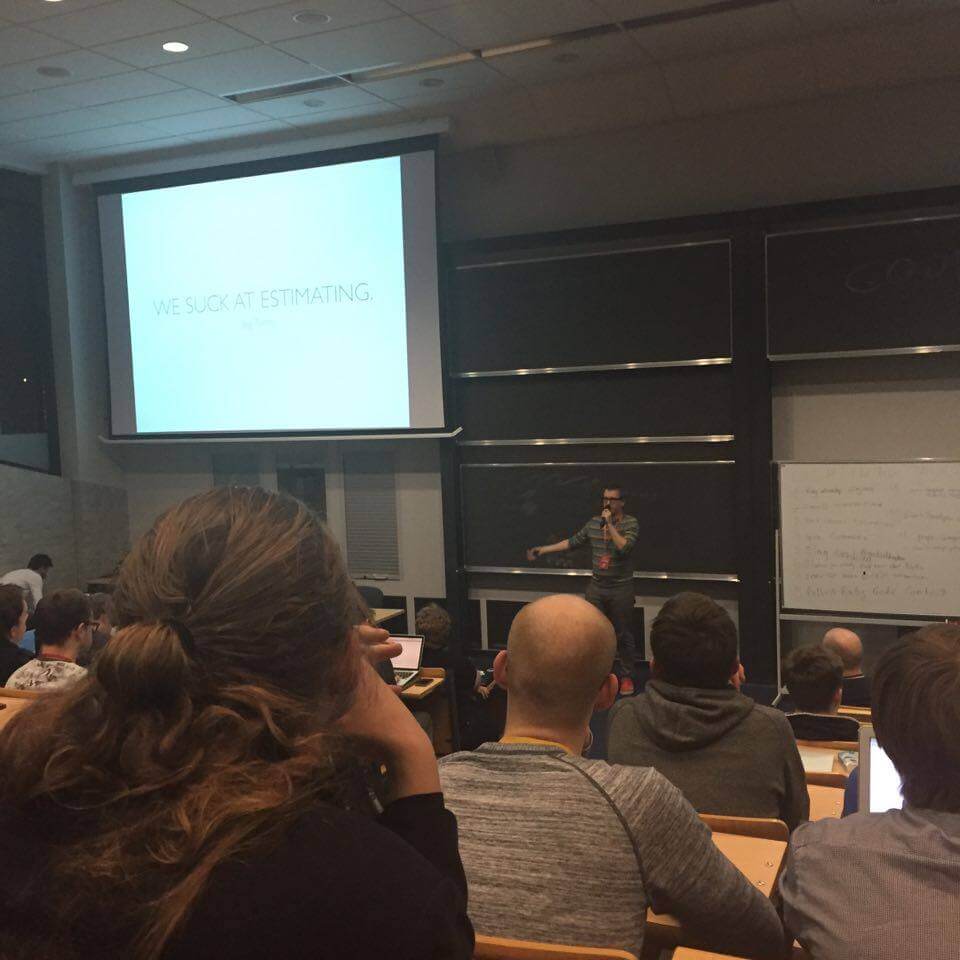 This year's conference was special for me because, for the first time, I was also a speaker. It was only a lightning talk, but still, it is a little milestone. I did a talk about Projectr – a data-driven estimation toolkit – our new Lunar toy. Please check out the slides and/or follow us, if you're interested. We'll be posting a lot more about this concept very soon. Plus, if you happen to have seen my talk – please send me feedback and hit me with any questions.
Final word
Wroclove.rb, regularly, proves itself to be one of the most inspiring conferences in this part of Europe. Loud congrats and many thanks to organizers, mentors, and speakers. Well done! See you next year.