Back to all articles
How we work pt. 3: The Lean Coffee.
All-company meetings are boring. Especially when you've got to listen to a manager's rant about yet another robustly streamlined leveraging out of the box. Gosh.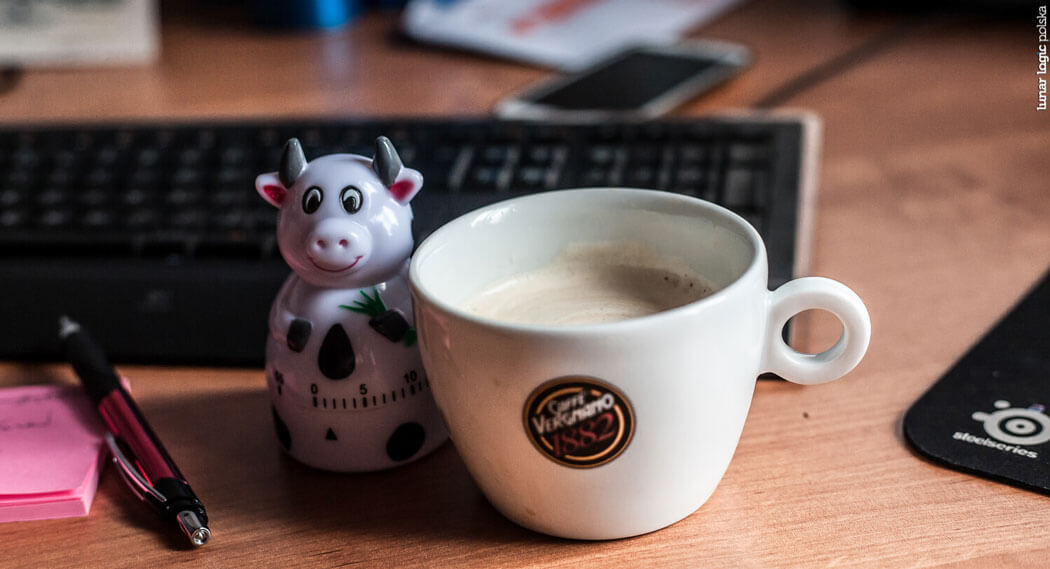 Thankfully, we've got no managers. We do have company meetings, though. Once a week, to be precise. It's called the lean coffee, even though it's not about watered-down coffee.
Meetings democratised
We gather in the so-called sofa room every Wednesday at noon, making ourselves comfortable in the omnipresent bean bags. We work on two floors, so it's a good opportunity to meet people you seldom see.
If you want, you may write a topic on the whiteboard, which we'll vote on after everyone's in place. Paweł (the no-boss) counts the votes then and we start discussing the most popular topic.
We talk about a variety of issues. We're a transparent company, with all its pros and cons, so more often than not we talk the upcoming projects over. Or the very sales process. The lean coffee is not dead serious, so there are often questions concerning the hair colour of some people (hint: ginger) or boss's height (hint: stilts).
Time saved
Lean coffee is timeboxed for 30 minutes, with up to 8 minutes per topic (it can be prolonged to 12 minutes if need arise). Thus, it's exactly one pomodoro long. A half an hour is just enough for you to focus and not get tired or bored.
We're not very strict – the routine may break, especially during hot, lengthy days or when there's an ultra important topic on the plate. The lean coffee isn't compulsory, so if you've got something big (e.g. a product shipment) to do, no one will drag you to the sofa room.
Folks entertained
Lean coffee is fun. Most of the people usually attend it, passionately interested in the company life. It's weekly, so we don't repeat the topics and there's always something new to listen to. Especially when comfortably reclining in a bean bag.
Lean Coffee is sometimes called Open Coffee and it's an open weekly event for discussing all sorts of matters, e.g. Open Coffee Kraków. More about Lean Coffee from the Limited WIP Society.